Chiropractic Testimonials
" I would like to thank Dr. Muir for his advice and the excellent treatments I have been receiving throughout my pregnancy. I am currently in month 6 of my 2nd pregnancy and feel great! I have always had hip problems growing up and experienced quite a bit of discomfort during my first pregnancy as well as labor and delivery. Dr. Muir explains everything very thoroughly how chiropractic care during pregnancy alleviates so many common pregnancy aches and pains. I've gained so much knowledge about my previous pregnancy and why things happened. Being proactive this time around has made such a huge difference! I am very glad I came across his Facebook advertisement and took a chance. It was wonderful to see someone who really knew what he was talking about, and was able to help me to enjoy my pregnancy and feel wonderful!"
- Courtney P.
---
"I feel a lot better since I've gotten adjusted. My back feels a million times better every time I get it adjusted. It honestly takes a lot of stress off of me. Thank you for adjusting me every week. I feel so much better than I did when I first came. Before getting adjusted, I couldn't do certain things. I couldn't compete on the cheer team without my back hurting, I couldn't tumble without it hurting. It was hard to run around with friends without it hurting. Now since I've gotten adjusted, I can do all of that stuff without my back hurting. It feels so much better and I can tumble so much better because my back isnt hurting."
- Cheyenne A.
---
"I was fortunate to have met Dr. Muir during a presentation to a group of seniors. I was experiencing excruciating hip joint pain for a couple of months and I believe our meeting was not by chance. It was during our discussion, after the event, that I decided to investigate the option of a chiropractor before going to my PCP and getting a referral for an ortho doctor.
Dr. Muir's ability to put my needs first and to direct specific treatment to my case was extraordinary. I am amazed as to how quickly I began to see and feel results. I feel great! I would recommend Dr. Muir's services to anyone with an injury or experiencing discomfort. It was the right choice for me."
- Anna K.
---
"After months of terrible shoulder pain, severe migraine headaches and just an overall feeling of tiredness, I decided to do something about it. I had never seen a chiropractor before, so needless to say I was very nervous going to my first appointment. Before working on me, Dr. Muir took x-rays and sat down with me to set health goals. After a full explanation and answering all my questions, he started to work on my neck and back. After my 1st adjustment, my shoulder pain was gone! I couldn't believe it. I've been seeing Dr. Muir for about a month now and I no longer get migraine headaches and I have more energy than I've had in a long time. I am truly amazed at how good I feel and am now a true believer in chiropractic care. Thank you Dr. Muir for changing my life!"
- Sonia K.
---

---

---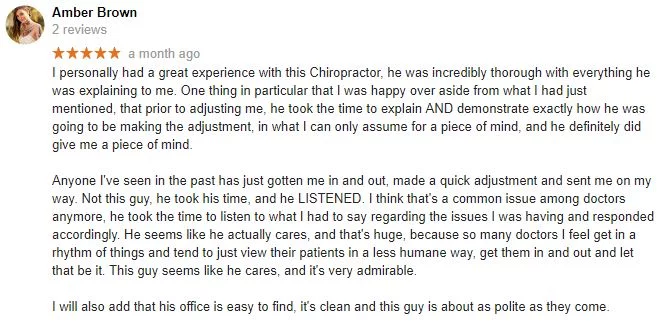 ---

---

Monday
9:00am - 4:00pm
---
Tuesday
10:00am - 6:00pm
---
Wednesday
9:00am - 4:00pm
---
Thursday
10:00am - 6:00pm
---
Friday
10:00am - 12:00pm
---
Saturday
Closed
---
Sunday
Closed
330 Chiropractic
1280 Boardman Canfield Road #1
Boardman, OH 44512
(330) 953-1330
Fax: (330) 953-1332